♣Ichabod Emmerson Peveril♣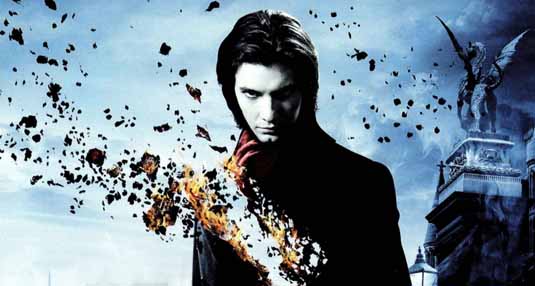 "I am what you made me! I lived the life that you preached... but never dared practice. I am everything, that you were too afraid to be." ~ Dorian Gray
Age
Ichabod is seventeen years old.
Gender
Male. And a very nice looking one, at that.
Description
See the picture. Also, if he sees his image, cracks start appear and he will crumble. Like so:
Parents
Aphrodite and Edmund Peveril met at an art show in central London. Thanks to his job, Edmund was due to sail to America in nine months. Aphrodite gave him their son on the very day that he eft for America.
Powers
Ichabod has the power to make ONE person a day fall in love with him. It's relatively easy to break because he needs to keep doses of the power going. He can give up to several doses, each time getting weaker. Also, it doesn't work if the person is already in love. It isn't strong when Ichabod hasn't rested either at all or very well, either.
Flaws
Let's see...
-Hedonistic
-Self-centered
-Narcissitic
-Traitorous
-Impatient
-Can't see his own image or he crumbles to dust
-Sometimes naive
-Stubborn
-Vain
-Scared of mirrors.
Weapon
Celestial bronze knife and a celestial bronze sword.
Talents or skills
-Musically gifted. He can sing, play the violin, piano, flute and, in the future (like, our present) guitar.
-Persausive.
-Intelligent.
-Can cook.
-Can draw.
-Charismatic and very social.
Roleplay example
Ichabod was lurking in the shadows of thedarkened room. The air was cold around him and he had his back to the doorway. Ichabod detested his cabin. All the perfume and clothes and accessories... Not to mention the mirrors. He wanted a place to himself And although he thought it impossoble, he wanted to see Rosie. Rosie always made him smile. He wanted to go home, back to the place and time where he was waited on, hand and foot. He was intelligent enough not to hope he could. He knew that the manor had been sold back after the second world war. He wasn't surprised the future was like this, dull, dark and boring. What he needed was a place where he could socialise. He needed... He needed someone to fall for him again. To tell him all the nice things he already knew about himself. He smiled at the shadows, got up and left, leaving his darkened cabin behind him. And chasing after another dream.
Biography
Ichabod was born in 1888 in London. Almost immediately after his birth, Ichabod was taken to live the United States of America. Living in Little Rock, Arkansas, with his father, Edmund Peveril, Ichabod was raised out of sight in the confines of big, ivy covered walls of the Peveril Estate and Manor House. Generally, he was very secluded in his personality until he was aged five. When he was five, he befriended a girl called Rosie. Rosie was the daughter of the gardener. She and her family were dark skinned. Segregation back then was pretty popular. But the Peveril household never endorsed that behaviour. In fact, one of the reasons the manor and estate were so exclusive was because of how the population thought about treating other races with such kindness. Rosie taught Ichabod a lot. She taught him not to be afraid of the world around him and to be kind and gentle to nature and people. Rosie was an approved infulence on Ichabod since the first day of their friendship. As they grew older, Rosie started to gain attention from other men. Unwilling to let his best friend go with such people, Ichabod became stubborn with her. An argument between the two followed and Rosie stormed out. This occured when Ichabod was fourteen and a confused young man. He had an idea. He tidied himself up, took a knife and set out for her heart.He found it, all right. He found it with a bullet in it. Ichabod, whilst growing up, had always been aware that he was exceptionally good looking for someone of his age. He looked older than he was. He knew girls fauned over him. And he knew this made some other boys hate him. A jealous young man had shot Rosie dead. Enraged, Ichabod went after the killer. On his travels to find the murderer, he discovered the "joys" of drink, gamboling and sex. Changed for the worst, Ichabod is hell bent on killing Rosie's murderer. On his travels, he lost the desire to murder and focused on the women he could convince to come to where ever he could find. He found a young woman once who refused him. Intriqued, he allowed her to buy him a few too many drinks and he made a deal with her. So long as he never saw another image of himself, he'd age at a slower rate. One year for every ten years. It wasn't until a few years later when he discovered the deal had been legitimate that he realised that the mysterious woman was in fact Hebe, goddess of youth. He woke up one evening inside a place called the Lotus Hotel. He gambolled, had fun and eventually, when he left, was taken into the outside world. He was brought to camp by avery strong wind... A favour from Aeolus called in by his mother, Aphrodite.
Anything else
He is not immortal. He can still die through injury, illness and time. Oh and the cracks/disolving thing can kill him too.
_________________
Shan, daughter of Poseidon. 16 years old. See user image. Hydrokinetic, can talk to marine life, walks on water and stays dry when submerged. Twin daggers "Wave" and "Tide."
Piper McLean, daughter of Aphrodite. 16 years old. See below spoiler. Charm speaker, tom-boyish and pretty. Knife Katoptris.
Rebecca "Rebel" Dragovitch, daughter of Somnus. Aged 17 or 18. It's kinda unknown. CIA Opperative. She can make you feel sleepy. Roman demigod in the Fourth Cohort.
Ichabod Emmerson Peveil. 17 years old. Born 124 years ago. Stayed in the Lotus Hotel. Sword and knife (CB). Son of Aphrodite. Can make someone fall in love with him. Can be broken if they are in love with someone else.
Piper McLean: